Madurodam Express + Entrance Madurodam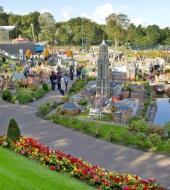 The Madurodam Express, a unique connection between the city and the beach!


Visit the world-famous miniature theme park Madurodam where big stories of the Netherlands come to life. Avoid traffic and overcrowded trams and take a comfortable boat trip to the theme park and the beach!

Choose if you wish to depart from the centre of The Hague (Den Haag CS) to Madurodam, or if you wish to go to Scheveningen (Haringkade/Vijzelstraat) from Madurodam. From this last stop, it's only a 10 minute walk to the beach!

The Madurodam Express sails between The Hague and Scheveningen and has fixed boarding points:


From Bierkade to- Den Haag CS - Madurodam - Scheveningen:

Den Haag CS, via Madurodam to Scheveningen (Haringkade):
Departure times: 10:00h, 12:00h, 14:00h, 16:00h


From Scheveningen to - Madurodam - Den Haag CS - Bierkade:

Madurodam to Den Haag CS:
Departure times: 11:30h, 13:30h, 15:30h

Madurodam, via Den Haag CS to Bierkade:
Departure time: 17:30h



Address Madurodam: George Maduroplein 1, 2584 RZ The Hague, the Netherlands


The ticket will be sent within 24 hours in a seperate e-mail.

Send by email