Kinderdijk Canal Cruise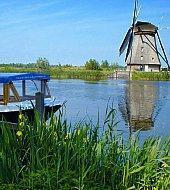 Enjoy the beautiful view of the windmills and the area from the water while sailing the canal of the Overwaard!
The boat Prins Friso takes you to four visiting points. The electric 'whisper' boat starts at the Visitors´ Centre Wisboom and then sails to the Parking Area, Museum Mill Nederwaard, Musuem Mill Blokweer and back to the Visitors´Centre. You can get on and off at all visiting points. The Prins Friso is an open 'terrace' boat and completes its tour in 30 minutes and is suitable for wheelchairs.
Buy your tickets online and make sure you have a reserved seat!
Departure time:
10.00h
Departure place:
The exact departure place of the tour in Kinderdijk will be sent by email after your purchase.
The ticket will be sent within 24 hours in a seperate e-mail.

Send by email