Kinderdijk + English Guide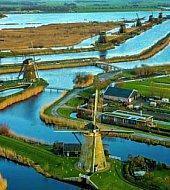 Visit the Kinderdijk windmills - an unique, iconic Dutch World Heritage!
The village of Kinderdijk is surrounded by a nature landscape called the 'Groene Hart' (Green Heart): an oasis of peace and quiet right in the middle of Holland's very busy conurbation 'De Randstad'.
During a day trip to Kinderdijk, you will meet Holland below sea level. The Dutch don't notice any of this though, because an incredibly innovative and intricate system keeps the ever-rising seawater from flooding the land. Even during spring tide, the Dutch are safely guarded from being washed away.
The most important aspect of UNESCO World Heritage Kinderdijk is undoubtedly the unique collection of 19 authentic windmills, which are considered a Dutch icon throughout the entire world. A wonderful and unforgettable day trip in the Netherlands for the entire family!
Book your reservation for this guided tour here!
A personal guide can show you around the windmills, the museum mill, the windmill workshop and the surrounding nature. You will get plenty of opportunity to ask questions and you will visit places that aren't normally open to the public.
Departures:
10.00h or 14.00h

Departure place:
The exact departure place of the tour in Kinderdijk will be sent by email after your purchase.
Minimum number of participants:
2
The ticket will be sent within 24 hours in a seperate e-mail.

Send by email