Kinderdijk Guided Windmill Workshop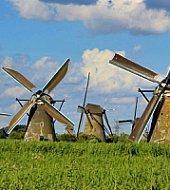 Windmill workshop: experience the life of a miller!
For true windmill lovers, a trip to Kinderdijk simply isn't complete without paying a visit to the authentic windmill workshop. Here, you will get an exclusive look into the construction and maintenance of windmills and get to know more about the profession of a miller.
It's an unforgettable experience in a typical Dutch environment!
You will find out:
How a windmill is built
How a windmill is maintained
How a windmill works
What kind of work a miller does
How to become a miller

In the workshop, a personal guide will tell you all about the 19 windmills of Kinderdijk. At this special location, the guide will show you all kinds of windmill parts and you will get the chance to study mill construction drawings from up-close.
Your guide will explain how a windmill is able to pump water using the power of the wind. In the workshop, you will learn about cogs and rods, rotating sails, lantern gears, shafts, scoop wheels, screws and water levels.
Book your reservation for this guided tour here!
Minimum number of participants: 2
The ticket will be sent within 24 hours in a seperate e-mail.

Send by email